I love pizza...hands down it's one of my favorite things to eat. This is a great way to enjoy one of your favorite foods, while still minding your "diet". Thanks to Marks Daily Apple for the recipe.
See the full blog post here: https://www.marksdailyapple.com/greek-meatza-with-creamy-feta-kalamata-olives-and-red-onion/
Ingredients:
2 pounds ground beef
2 eggs
1-2 tablespoons fresh thyme
2 teaspoons dried oregano
1/2 teaspoon dried onion powder
2 teaspoons salt
2 garlic cloves, finely chopped (optional)
Toppings:
1/4 cup (or more to taste) of your favorite pizza/tomato sauce
1 cup pitted kalamata olives
1 small red onion, very thinly sliced
1/3 cup or more crumbled feta
Instructions:
Preheat oven to 450 degrees Fahrenheit.
Line a rimmed 11×17 pan with parchment paper. The rim is important so the grease is contained while the meat cooks.
In a large bowl combine the meat, eggs, thyme, oregano, onion powder, salt and garlic. Whisk the egg with a fork then get your hands in there and thoroughly combine the eggs with the meat.
Spread the meat out evenly and thinly over the entire pan, stretching it all the way to the sides.
Bake for 10-12 minutes and remove from the oven.
Turn on the oven broiler to high.
The meat will have shrunk by several inches. We like to gently scrape off the top to remove excess grease and then transfer the meat to a new pan. (You can also just drain any liquid or grease that has gathered in the pan and finish baking the meatza in the same pan.)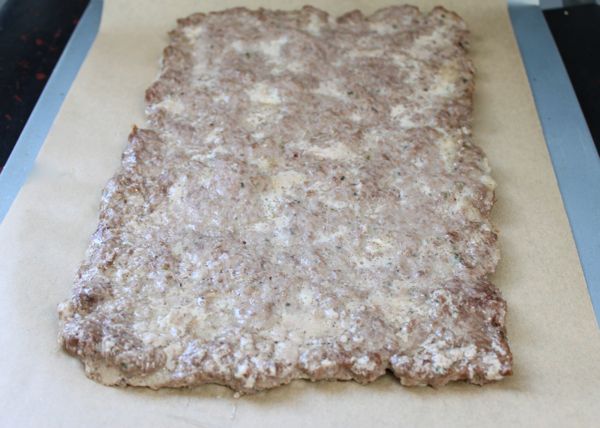 Spread pizza sauce on top, leaving a little rim around the edges for a ?crust.? Cover the meatza with toppings. Broil for 5-7 minutes, until cheese is soft and toppings are lightly browned.